​
While Mark's parents are both from Chicago, he was born and raised in Greenwich, CT. His father Leonard Santow recently retired as an economist, specializing in monetary and fiscal policy. His mother Sharon worked in marketing for decades, and has been very active in the public schools and charities of Greenwich over the years. His younger sister, Deborah, is currently an elementary school principal in upstate NY.
"My paternal great-grandfather came to the United States from Belarus in the first few years of the 20th century, fleeing anti-semitism and seeking freedom and opportunity for his young sons," Mark says. "He established a scrap metal business on the South Side, in the shadow of Comiskey Park. My father, Leonard Santow, attended Chicago public schools, getting his undergraduate degree and his Ph.D in economics and finance from the University of Illinois. In many ways the Santows have lived out the classic social mobility tale of the white European immigrant to America. My great-grandfather and his family came to the United States with only what they could carry, including the painful baggage of religious oppression. My daughter was born a century later, to parents with their own home, stable employment, education, and some measure of economic security, in a nation dedicated to freedom of conscience. She lives now in a city filled with families setting out on that same path, whatever legal labels and obstacles politicians and demogogues seek to impose upon them."
Mark's parents met at the University of Illinois in the late 1950s. While his dad was very much a city kid, his mom grew up in the Chicago suburb of Oak Park; while the Santows were Jewish, the Crowleys were Methodist. This made their match a somewhat unusual and contested one for the time. In part as a consequence, Mark recalls, "they raised my sister and I in a household that disdained prejudice, and valued thoughtful deliberation and free-thinking. My mother's parents spent much of their adult lives as self-described conservatives; I recall one of them telling me they voted against Franklin Roosevelt four times! But in the 1960s each of them in their own way experienced a profound transformation in how they understood their country, their faith, and what each demanded of them. They became very active in the civil rights movement as well as the anti-war movement through their church. My grandfather, Walter, took a leading role in Oak Park's ongoing efforts to foster the racial integration of housing. While I grew up in a Jewish household, as a child and a young man I was profoundly affected by their social gospel orientation and their commitment to racial justice, as well as their basic decency. And their love of the Chicago Cubs."
Mark attended Greenwich's public schools, graduating from Greenwich High in 1985. "Greenwich was (and is) a very white and wealthy suburb," Mark says. "Privilege reproduces itself in all sorts of ways, but one way is by creating a kind of bubble that naturalizes it. As a child I was only dimly aware of my fortunate circumstances, but as I got older my grandfather made sure I had an understanding of racial inequality. In middle school I began to voraciously read everything I could find on or by people living in different circumstances from my own."
While Mark identified with the Yankee Republicanism that was common in the Greenwich of his childhood, he also developed an enormous admiration for historical figures and present-day activists who took risks in defense of principle. "That list included everyone from Malcolm X, to Muhammad Ali (my boyhood hero), to Stewart McKinney (my Congressman, and an early crusader for gay rights and the struggles of the homeless), to Lowell Weicker (who created the state's first income tax, to help fund school equality)," Mark says. "While my politics in 2017 are quite different from what they were in 1983 -- I was a conservative then, and I'm an unapologetic liberal now -- I've never abandoned my faith in the ability of ordinary people to do extraordinary things through social movements and the instrument of democratic government."
Mark got his BA in History and Philosophy from Vanderbilt University in 1989. While there, he became very active in the anti-apartheid movement, and worked for several years trying to get the university to divest from its holdings of companies invested in South Africa. He wrote about that activism in the Huffington Post shortly after Nelson Mandela's passing in 2013.
"One day in 1986 I took a walk past the Divinity School on my way to the library, " Santow recounts. "Directly across from the Div courtyard, I saw a small group of men and women sitting next to a kind of lean-to. One of them called me over, and asked me if I knew anything about something called "apartheid." I didn't really. My abrupt Yankee instincts pushed me to say "thanks but no thanks." But there was something that drew me in. And I really never left. Something clicked, and it changed my life.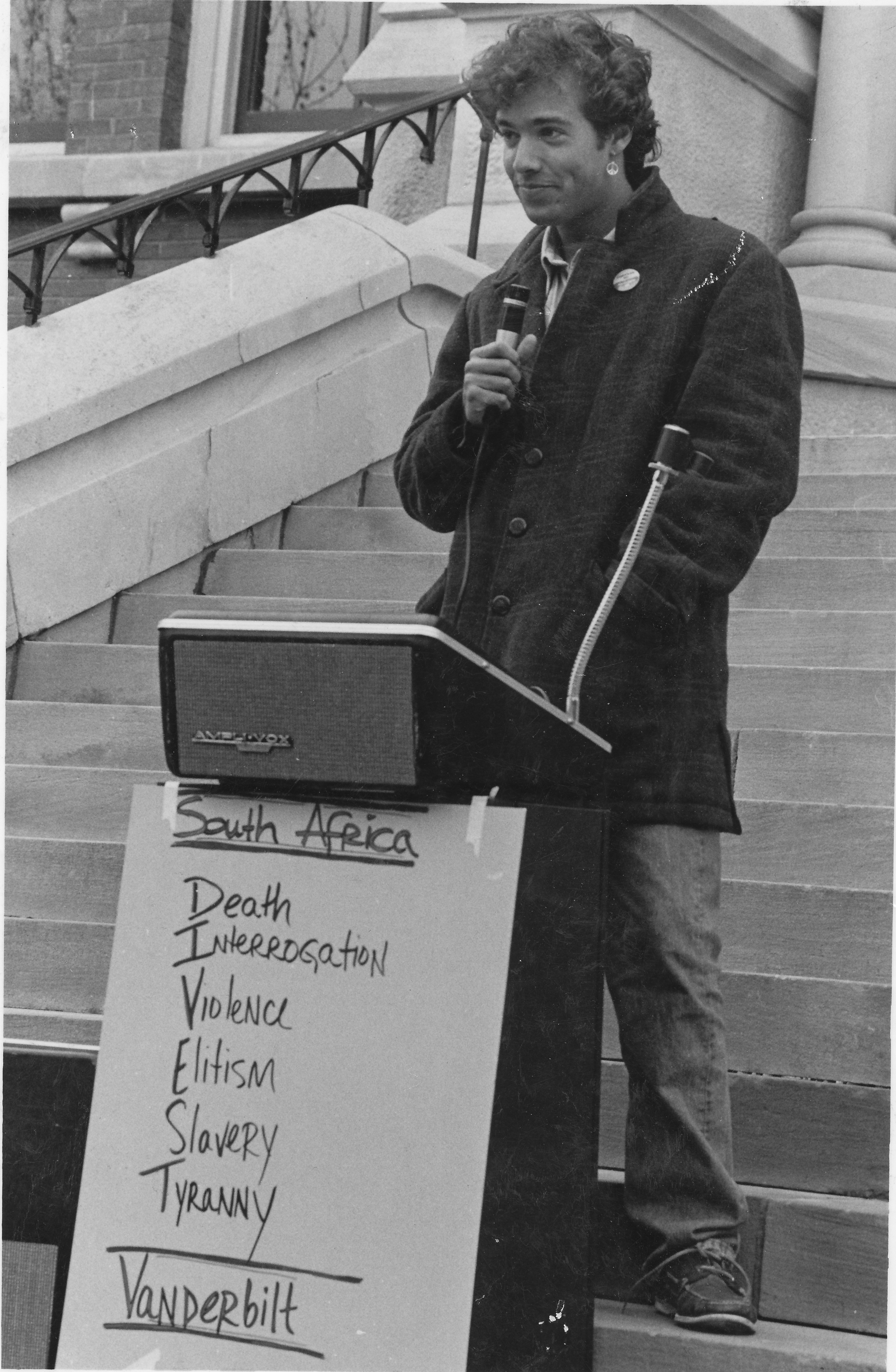 ​
I'm still sitting in front of the shanties, in my own way, more than 30 years later. I'm trying to do what the students beckoning me to join them in their protest did for me then — to gently prod people to look, listen, think, and maybe act. My students certainly know this about me (just ask them). While running for office isn't something I've ever done before, in many ways it is a continuation of what I've been doing since I was 19 years old."
After college Mark waited tables, worked briefly as a labor organizer, and back-packed through Eastern Europe as the Berlin Wall fell. He earned his Masters in American labor history from UMass-Amherst in 1992, and his Ph.D in American history from the University of Pennsylvania in 2000, specializing in urban history.
In 1997, while living in Philadelphia, he met his future wife, Shana. She was finishing up the architecture program at Philadelphia University. They were married in October 1999. The ceremony was at the Franklin Institute, to the delight of her large and Philly-loyal family!
After a one-year position teaching at Fordham University, in 2001 Mark got a tenure-track job at Gonzaga University in Spokane, WA. He served as the vice-chair of the Spokane Human Rights Commission, where he helped to lead a campaign for a living wage ordinance, and a domestic partnership benefits law. He also worked with his students to help organize a city-wide summit on poverty, called "One Spokane," and was active in the peace movement in the lead up to Iraq war. "While I was raised Jewish," Santow recalls, "I was profoundly moved by the students, faculty and Jesuits I met who were trying to put Catholic social action and liberation theology into practice. I'm not a religious person, but I have always been struck by the core shared commitments to social justice of our major faith traditions. Studying the civil rights movement taught me this in theory. Activism showed it to me, in practice. I still see it, here in Providence."
Mark took a position in the history department at University of Massachusetts-Dartmouth in January 2004, and he and Shana bought a house on Rochambeau Avenue on the East Side, where they've lived ever since. While they loved Gonzaga, and their Spokane community, Shana and Mark really wanted to get back East. Their daughter Maya was born while they were out there, and they wanted her to grow up knowing her extended family. Their son Micah was born in 2005 -- a native Rhode Islander!
​Mark is now Associate Professor and Chair of history at UMass-Dartmouth, teaching classes on the history of American cities, social policy, race relations, and war. He's affiliated with the Urban Studies program, where he teaches a variety of classes, often making use of concrete examples from Providence to help his students think about the practical impact of policy choices.
In 2005 Mark and his father Leonard had the great pleasure of writing a book together, Social Security and the Middle Class Squeeze. They didn't just come from two different generations; they also approached the subject from different disciplines, and quite different political commitments. The goal was to try and do what no one in Washington seemed to be doing: find middle ground of some sort.
In the book, as well as in various newspaper and radio interviews following its publication, the Santows strongly criticized the drive by President Bush to leave the future of Social Security and its recipients up to the vicissitudes of the financial markets, and argued that the true crisis was not in the balance sheet of the program, but rather in the balance sheets of American families increasingly squeezed by risk, insecurity, and inequality. Mark argued that inequality needed to be the focus of public discourse, and followed up this work with a variety of publications on websites and in magazines about the causes and consequences of inequality For an example, see "The Real American Exceptionalism: Our Lives Are Stressful, Unhealthy and Short," HealthyPolicies.com, January 2013. He also created a course at UMass called "The American Dream: Poverty and Opportunity in the Modern U.S." He will be teaching it during the spring 2018 semester.
Mark's book Saul Alinsky and the Dilemmas of Race in the Post-War City will be published by University of Chicago Press in 2018. In it, he seeks to understand racial segregation and inequality in the nation's metropolitan areas, by examining the intersection of grassroots organizing, housing markets, poverty and federal policy in Chicago since 1940. He argues that another path was possible – one that might have led to a more just metropolis – and that too many of our federal policies even today reinforce and extend racial segregation. The resulting inequalities have unnecessarily impoverished families, cities, and the commonweal. Santow has shared various parts of this important work with scholars and the larger public through talks, book chapters and magazine articles. His article "Running in Place: Saul Alinsky, Race, and Community Organizing," published in 2006 by University of Kansas Press in the volume Transforming the City: Community Organizing and the Challenge of Political Change (edited by Brown University's Marion Orr), for example, has been widely used in university classes and in the training of organizers.
Based in part on his Alinsky research, Santow has created and regularly teaches a class entitled "The Color Line in Modern America" (he will be teaching it again in the fall 2017 semester). Mark began offering it while at University of Pennsylvania in the 1990s, and has taught it everywhere he has been since. It examines past and present-day racial controversies, such as affirmative action, school segregation, and reparations, from an historical perspective, as well as contemporary racial and ethnic issues on campus and in the local community. After spending the first 10 weeks of the semester learning about the history of race relations over the past century, students engage in a series of historically informed debates on contemporary topics related to race. Each debate is accompanied by a paper assignment, and students are asked to draw upon historical examples and arguments while taking a position. Students debate whether race should be a factor in college admissions, and if the U.S. Supreme Court made the right decision in its 2007 ruling on school integration in the Seattle and Louisville cases. The semester then concludes with a debate and paper on reparations for slavery, Jim Crow, and government-fostered racial segregation. Taking a position on this controversial issue forces students to grapple not only with the facts and arguments of history, but also with the moral and social weight of that history today.
Santow's current book project, Castles Made of Sand? Home Ownership and the American Dream, in many ways brings together his prior interests in housing, racial segregation, education, opportunity and inequality. His goal is to appeal to a popular, rather than scholarly, audience. Particularly since the 1970s, with rising economic insecurity and wage stagnation, homeownership and debt have become a kind of default safety net for millions of American families. Santow argues that the opportunity to buy a home is powerfully shaped by race, as well as class, and that inequalities are 'mapped' onto our social geography. Those with access to a home in the 'right' neighborhood or town are able to build wealth across generations, and to make residential choices that enhance educational opportunities for their children. Americans today, in effect, purchase public education through the housing market -- those who can afford to do so, that is. Those without access find themselves both literally and figuratively left behind. Urban public school systems like Providence thus find themselves running up a down escalator, hemmed in by structures over which they (and their poorer residents) have little control. That is the arena within which urban education and 'school reform' operates, though it is rarely acknowledged. Santow thus explores the role of home ownership in creating inequality and insecurity as well as opportunity, and argues that our historical experience (as well as events over the past decade) should push us to reassess whether how we live now is morally, economically and ecologically sustainable. He finds the racial and economic segregation of our communities and schools to be at the heart of our current national dilemma, and argues that how we build and buy our homes is only making this worse. Santow has published a variety of articles and reports designed to bring these subjects to a broader audience. For an example, see "The Cost of Living Apart," The American Prospect, September-October 2012, "A Different Kind of Choice: Educational Inequality and the Continuing Significance of Racial Segregation," Economic Policy Institute, and "Gilding the Ghetto: George Romney Knew Better," RI Future, September 2012, and "Robert L. Carter and School Desegregation in the Metropolitan North," the NAACP Legal and Educational Defense Fund, April 2012.
In recent years Dr. Santow has sought to bring his scholarly work to bear on issues of contemporary importance not only in the classroom, but in the larger public sphere. To this end, he has published many articles in magazines (The American Prospect, The Next American City) and on popular websites (Huffington Post, Economic Policy Institute) aimed at bringing a historian's perspective to such issues as school segregation, fair housing law, the relationship between inequalities of wealth and health, American foreign policy, and student activism. His article on the Charleston murders, "America Unworthy of Black Forgiveness," was published by the Providence Journal on July 2nd 2015. In September 2015, Santow was featured in "The Invisible Advantage of Whiteness," also published by the Providence Journal, as part of its "Race in RI" series.
Because of his increasingly prominent work on housing and civil rights, he was asked to serve as a signatory to fair housing amicus briefs for cases before the US Supreme Court (Township of Mt. Holly et al v. Mt. Holly Gardens Citizens in Action Inc., et al, October 2013; Texas Department of Housing and Community Affairs et al v. Inclusive Communities Project, decided June 2015) as well as the California Supreme Court (California Building Industry Association v. City of San Jose, spring/summer 2014). The 2015 Inclusive Communities decision by the US Supreme Court in particular was a landmark ruling, for the first time giving the federal government real power to enforce the 1968 fair housing law. Unfortunately, this ruling (and the HUD rules developed and released shortly after it) is now being undermined by the Trump Administration.
Since 2005, Santow has been the Academic Director of the New Bedford Clemente Course in the Humanities. Clemente offers humanities classes free of charge to low-income adults, for up to 6 college credits. Students take courses in Moral Philosophy, Literature, Art History, American History, Writing, and Public Speaking. While the hundreds of people who've taken the Course since 2005 are a very diverse group, the typical Clemente scholar is a single mother, seeking to return to school, and the empowerment that only learning can provide. The director teaches in the program, hires the faculty, constructs the curriculum, arranges child care, and works with community groups to recruit and support students and their families. He has also been active in helping to establish and advise new Clemente programs elsewhere in Massachusetts; as part of this work, he helped to write a successful multi-million dollar National Endowment for the Humanities grant proposal for Mass Humanities.
In March 2015, Santow was appointed to a three-year term on the Providence RI School Board, by Mayor Jorge Elorza. With his Board colleagues, Mark has focused on a variety of issues, generating positive change and momentum in the district in a variety of ways.
​They hired Christopher Maher as school superintendent, who has been a strong voice for equity, student empowerment, and school autonomy -- positions Mark and his Board colleagues have taken as well. Mark has been a key supporter of efforts to make the middle and high school curriculum more culturally responsive, and reflective of the lives and experiences of our students and their families. As chair of the policy committee, he has been a strong advocate for the Board's efforts to move school discipline policies toward restorative justice, and to sever the school-to-prison pipleline. Mark has also been a vocal opponent of the proposed expansion of the Achievement First charter schools in Providence, because of the devastating impact it will have on the ability of the city to adequately educate the more than 20,000 children who remain in the public school system. He has worked to make the Board's deliberations and actions more transparent and accessible to the community, too.
Mark has also been a strong advocate of the Community Safety Act here in Providence. He helped to organize a meeting of East Side voters in September 2016, to impress upon Mayor Elorza and local city council representatives that the CSA had strong support in this part of the city too. You can read his testimony, or see it below.
---
"I'm a father, a husband, a teacher, and a citizen," Mark says. "I have many roles to play, and I try to bring whatever integrity I can muster to all of them. I strongly believe that ideas matter. They matter in the academy, obviously. But they should matter in public discourse and policymaking, too.
I became convinced during that heady time at Vanderbilt three decades ago that America will never become the place it can be — "the land that never has been yet," as Langston Hughes once put it — until the problem of the color line is resolved. And more pointedly, I became convinced that white American men in particular must confront that problem (it is a white one, after all). They must answer it, as best they can. They must face it squarely. To do otherwise is to misunderstand ourselves and our fellow Americans, as well as our history. Privilege is always the flip side of deprivation, each tied to the other like we are to one another.
"We will have to repent in this generation," Martin Luther King, Jr. wrote from a Birmingham jail in 1963, "not merely for the hateful words and actions of the bad people but for the appalling silence of the good people. Human progress never rolls in on wheels of inevitability; it comes through the tireless efforts of men willing to be co workers with God, and without this hard work, time itself becomes an ally of the forces of social stagnation. We must use time creatively, in the knowledge that the time is always ripe to do right."
My teaching and my scholarship, as well as most of my adult life since that fall day in 1986, have been dedicated to that pursuit. I can't claim any great victories. I doubt I ever will. Most great victories are collective ones, anyway. I've never run for office, so all of this is new to me. I can tell you this, though: my life as an academic and an activist has prepared me to learn, to ask good questions, to explain things clearly, to be thoughtful about the moral consequences of policy decisions, and to approach all issues with an open and inquisitive mind.